From Prairie Skies to Mountain Highs
This post has been a long time coming and it still stings a bit to write about because I still miss it so much. If you get along with your siblings and have the opportunity to do a road trip with them, DO IT!
So I meant to post every day of my trip but the day before we left I was debating on whether or not to pack my laptop, as I put my laptop back on its shelf I decided to not write every day and try to be present in every moment of this trip.
Our schedule was TIGHT, and I don't mean "tight" as in "cool" (though it was), I mean we didn't spend more than 3 nights in one place. Even my dad said after we got home "I'm proud of you, I honestly didn't think you'd do it all!" He taught us well!
My dad was always so good at finding neat places to stop on the side of the road so, I'm going to go through our trip city-by-city and stop-by-stop.
Winnipeg to Regina
We set out on July 29th at 12:00 PM, said goodbye to my sister's pooch and hit the road! Unfortunately, my sister was quite sick so when we made it to Regina we just lazed about before setting off to Calgary the next day.
Regina to Calgary
Made it to Calgary through some thunder and rain. Had some great visiting time with my aunt, uncle and cousins. We were pretty happy to have a couple days off the road. It was really stormy while we were there and we experienced some golf ball sized hail! And a little damage to my car...
Calgary to Vancouver
This was by far the longest day, I don't know that we were fully prepared for all the winding through the mountains and we certainly didn't account for slower speeds when taking corners and such but the Coquihalla was a damn blessing, 120km? YES PLEASE! So, it was a long day but the stops we did on the long trek made the day on the road so worth it!
Lake Louise
I was thinking about cutting this from our itinerary because we've been so many times but my sister was having none of that. We parked probably half a kilometre away from the site because EVERYTHING was full and walked uphill to get that money shot. Obviously this view never disapoints and it will ALWAYS be worth the trouble. We ended up stretching our legs with a bit of a hike up the right side of the lake, but we were pretty eager to get over the British Columbia border!
3 Valley Gap
The coolest hotel I've ever stayed at is 3 Valley Gap, luckily my parents stumbled upon it when we were kids and we made sure to stay there every trip out west. If I had to describe it in one word that word would be "hodgepodge". It's homey but it's also cottagey, it's got a wreck room in the common area and a titanic mural in the pool, a beautiful garden out front facing the lake and a ghost town hiding behind it in the shadows. One of the most interesting places I've been. Unfortunately, we didn't stay there this time around but we did get our feet wet in the lake so that was nice!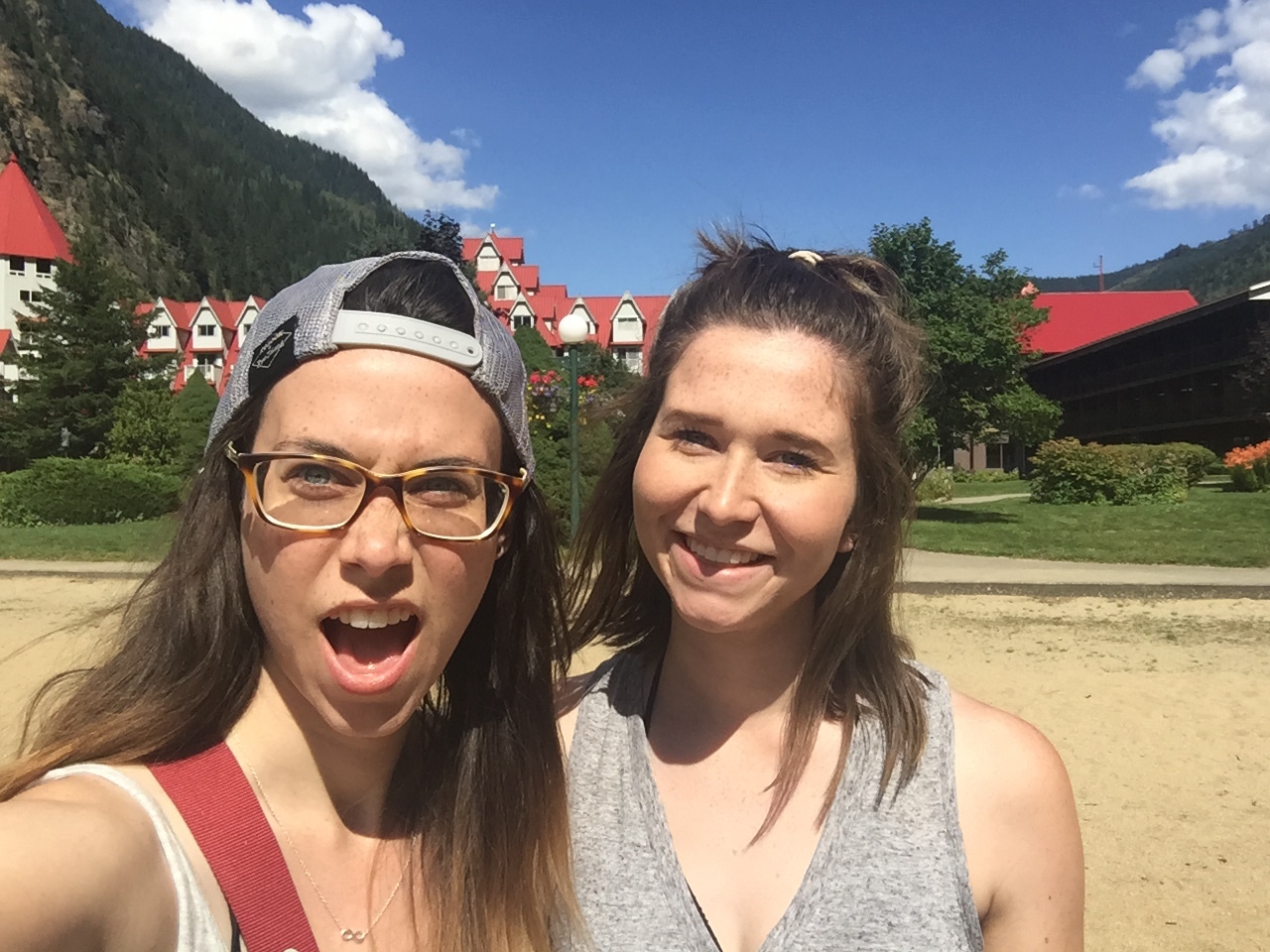 Vancouver
We were on the road from 8:00 AM to 10:00 PM, luckily our family is super amazing and my aunt, uncle and cousins were waiting with warm hugs and ravioli when we finally arrived! We had a few days in Vancouver and two of my beautiful cousins were gratious tour guides and they took us to Gastown, Granville Island and Kitsilano Beach!
Gastown
Gastown has always held my attention and has always been somewhere I wanted to go. My dad and I love to go out on excursions in Winnipeg to admire the architecture around the city. Gastown is much like Winnipeg's Exchange and there is beauty on every corner.
Granville Island
I've been to Granville Island quite a few times and it reminds me a lot of The Forks in Winnipeg but ON AN ISLAND ("island"). We did some wandering around the market, got some ice cream and checked out the marina a bit.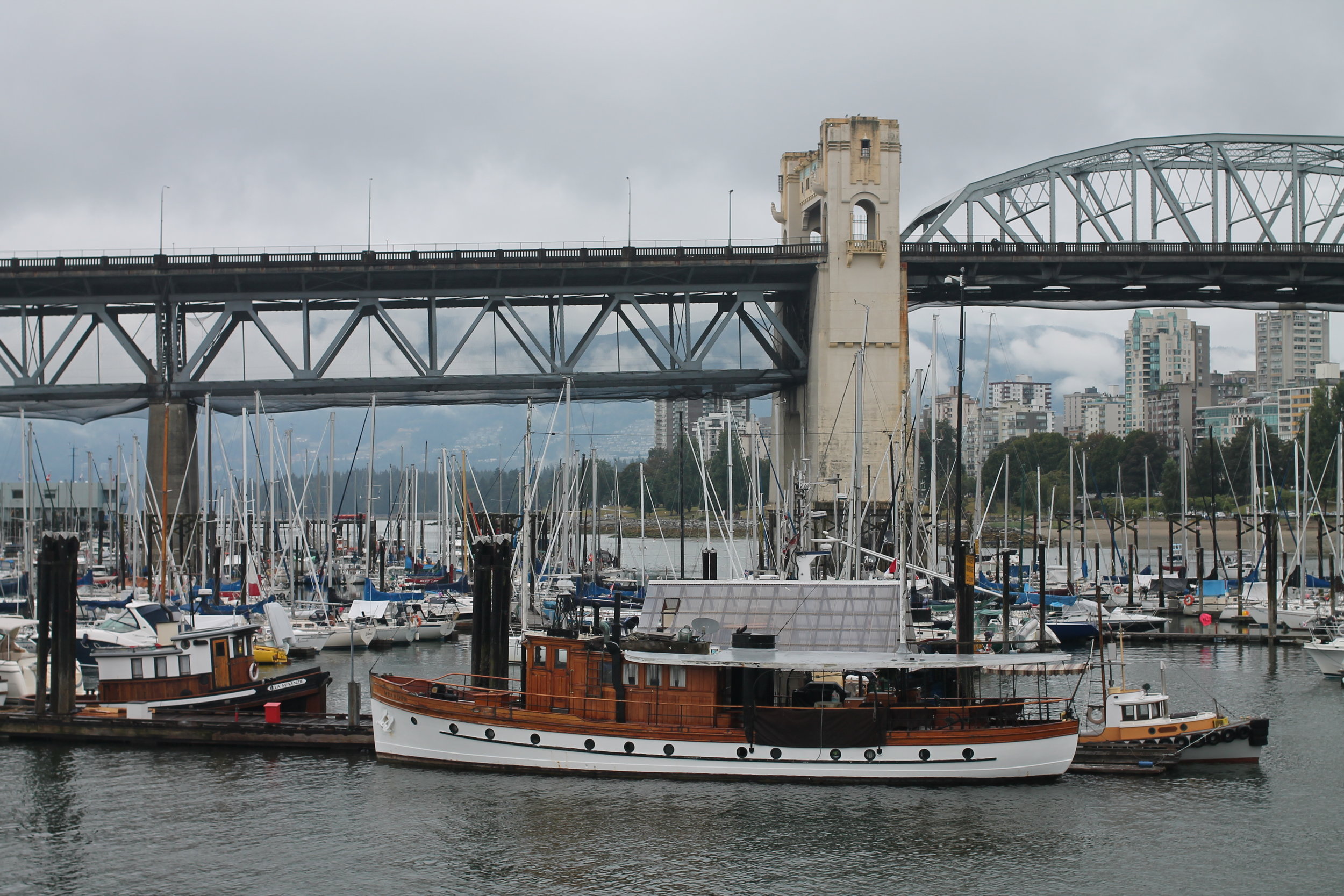 KITSILANO BEACH
I had never been to Kitsilano Beach before, at least not that I can remember. It was a cloudy and rainy day which was disappointing but it was still beautiful! We ran around the beach looking for tiny crabs and got an amazing and removed view of downtown Vancouver!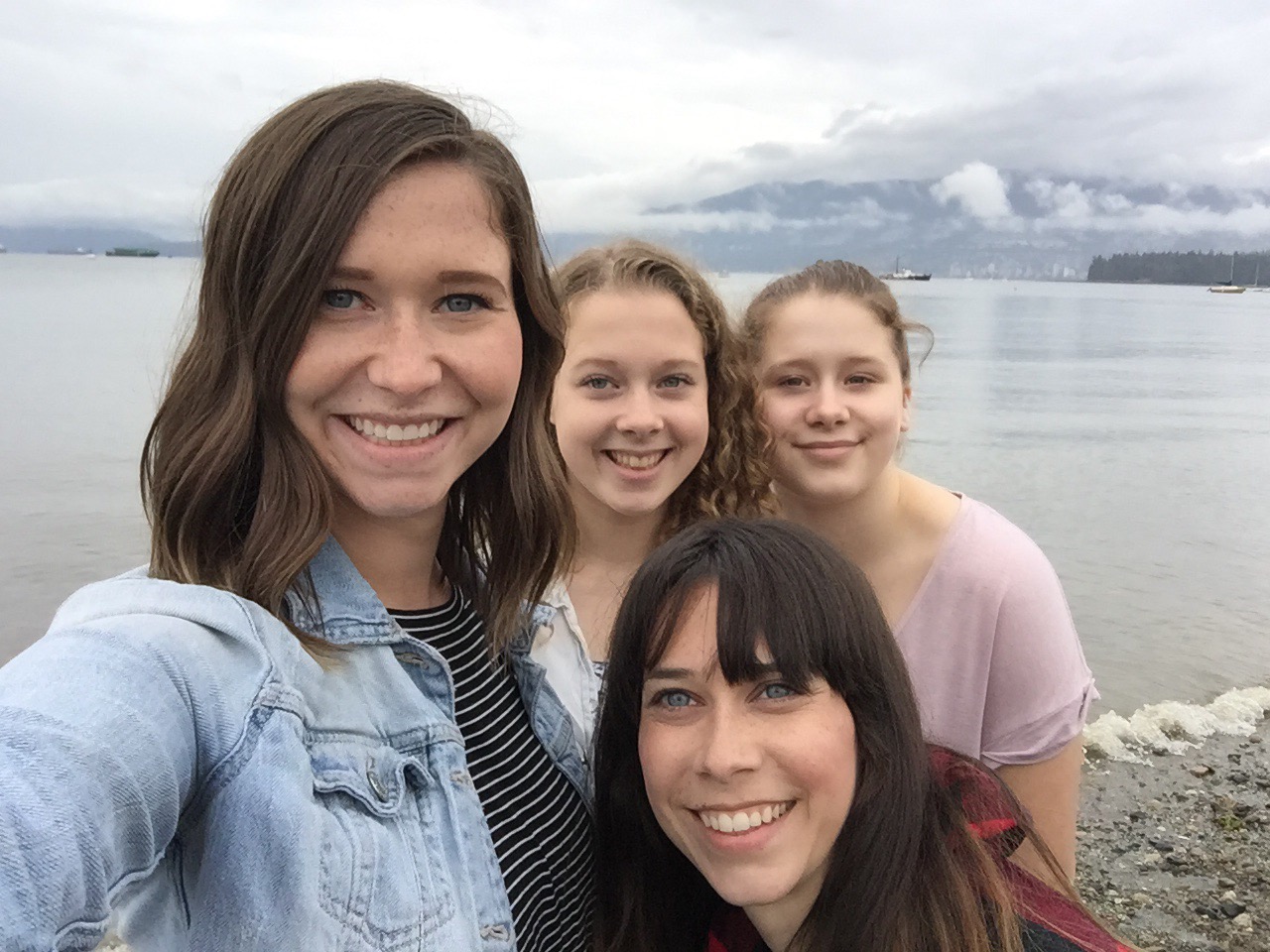 Grouse Mountain
When I peeled myself of the ground at the top of Grouse Mountain in 2012 I swore I would never put myself through that kind of suffering again. It. Is. The. WORST. Alas, my parents beat mine and my sister's time from 2012 (allegedly). So we had to take back the win. We managed a time of 01:26:18 beating my parents, thank God. Here are pictures of my suffering...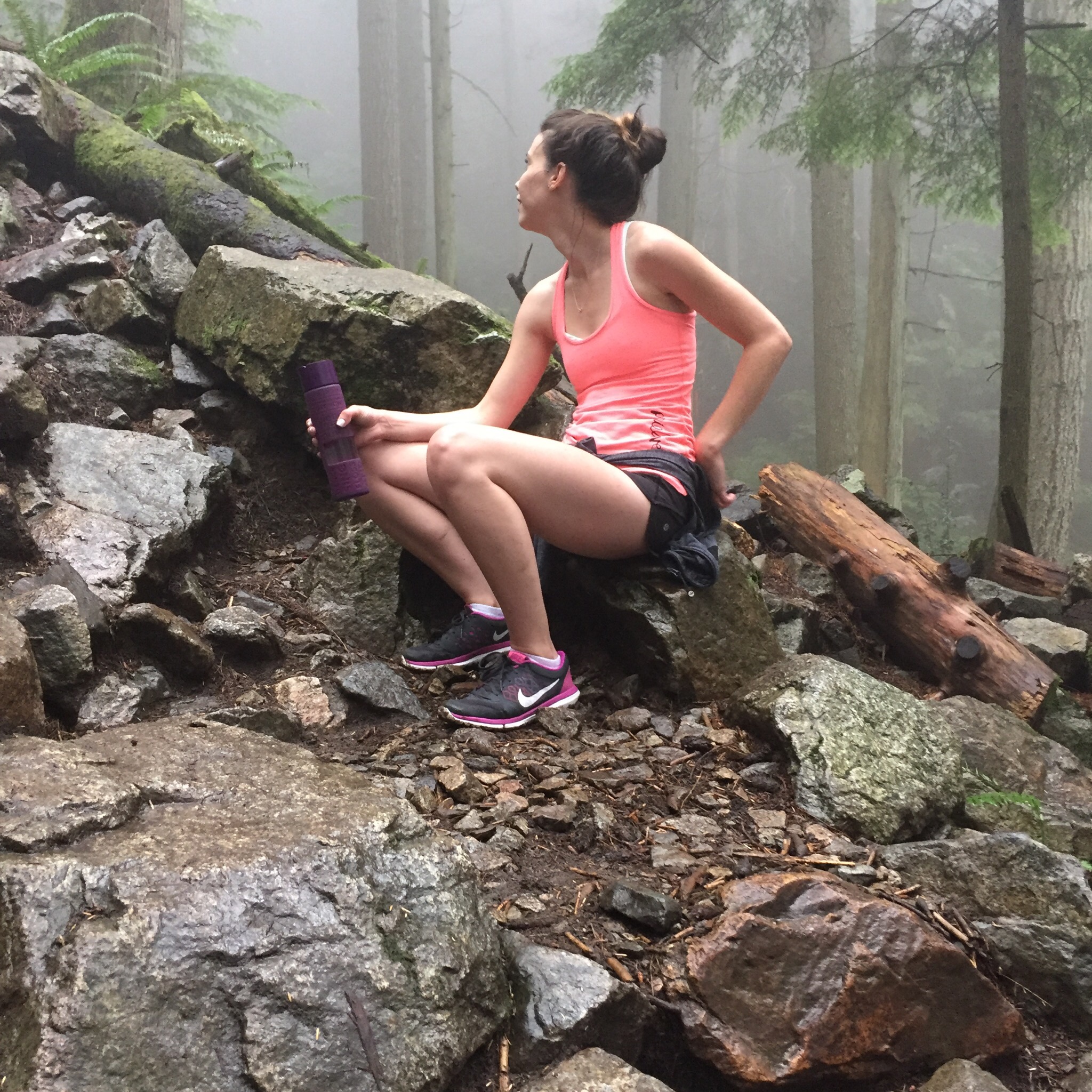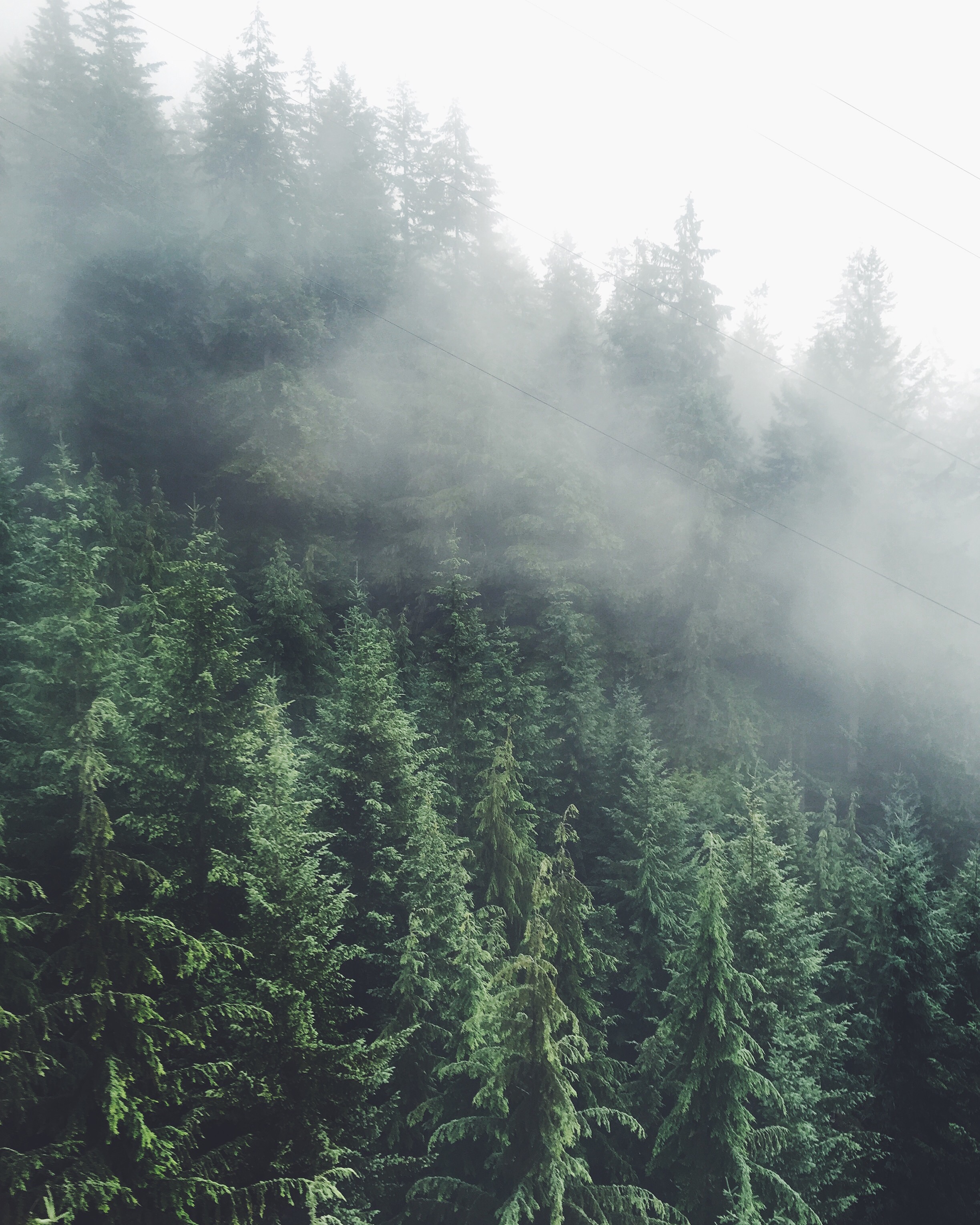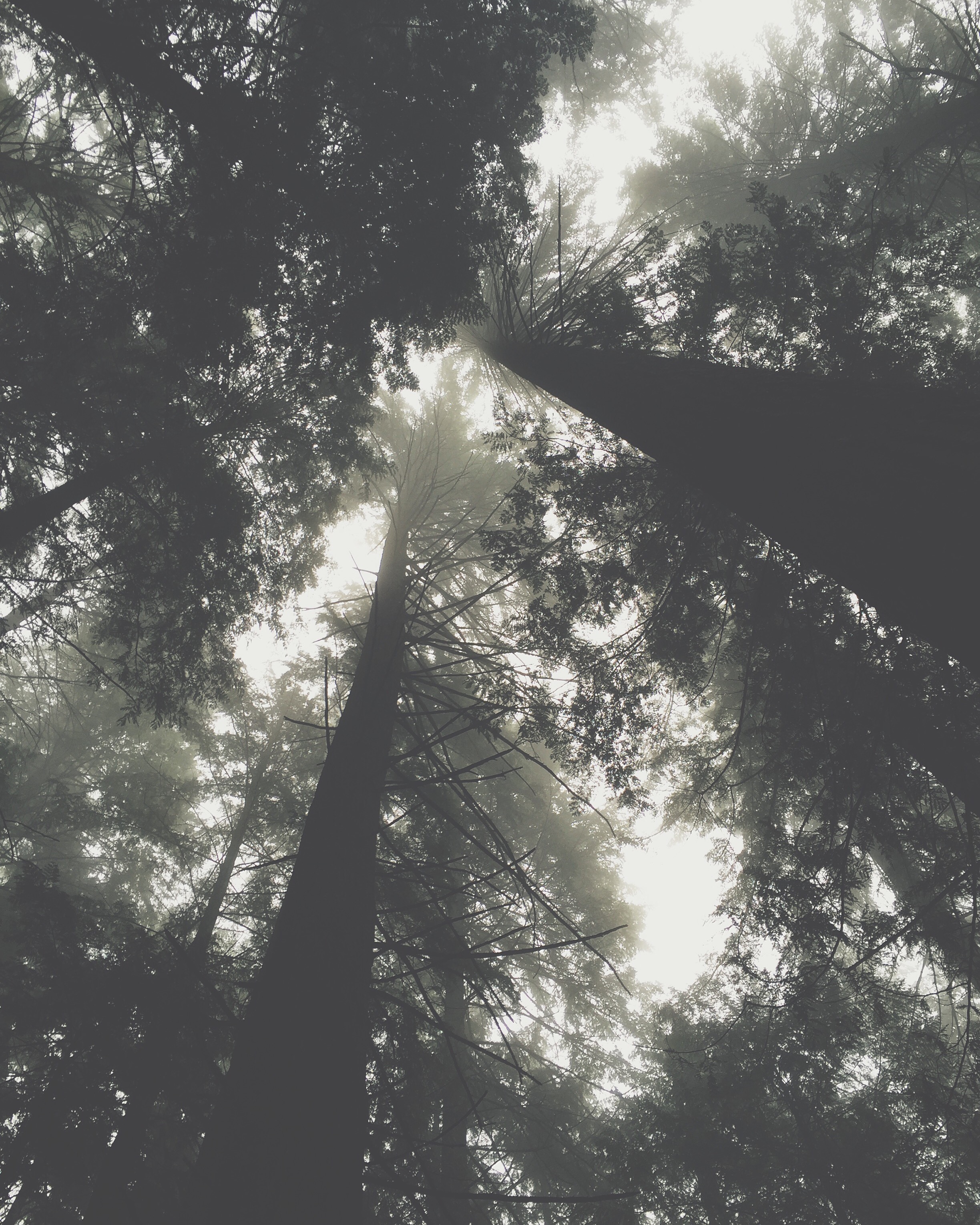 Vancouver to Whistler
This was a beautifully quick jaunt along the Sea-to-Sky Highway so we had to spice it up by making a few roadside stops. We hit Britannia Beach, Shannon Falls and Brandywine Falls.
Britannia Beach
Britannia Beach is a small town along the Sea-to-Sky Highway. It was built as a residential area for the staff of the Britannia Mining and Smelting Company in the early 1900s. The mine eventually closed in 1974 but left a stunning wreck, if you will, on the shore of Howe Sound.
Shannon Falls
This place was in-cred-i-ble. Once we forged our own path away from the rest of the tourists it was a complete stunner. We swam in the creek with the fishes and did some tree climbing.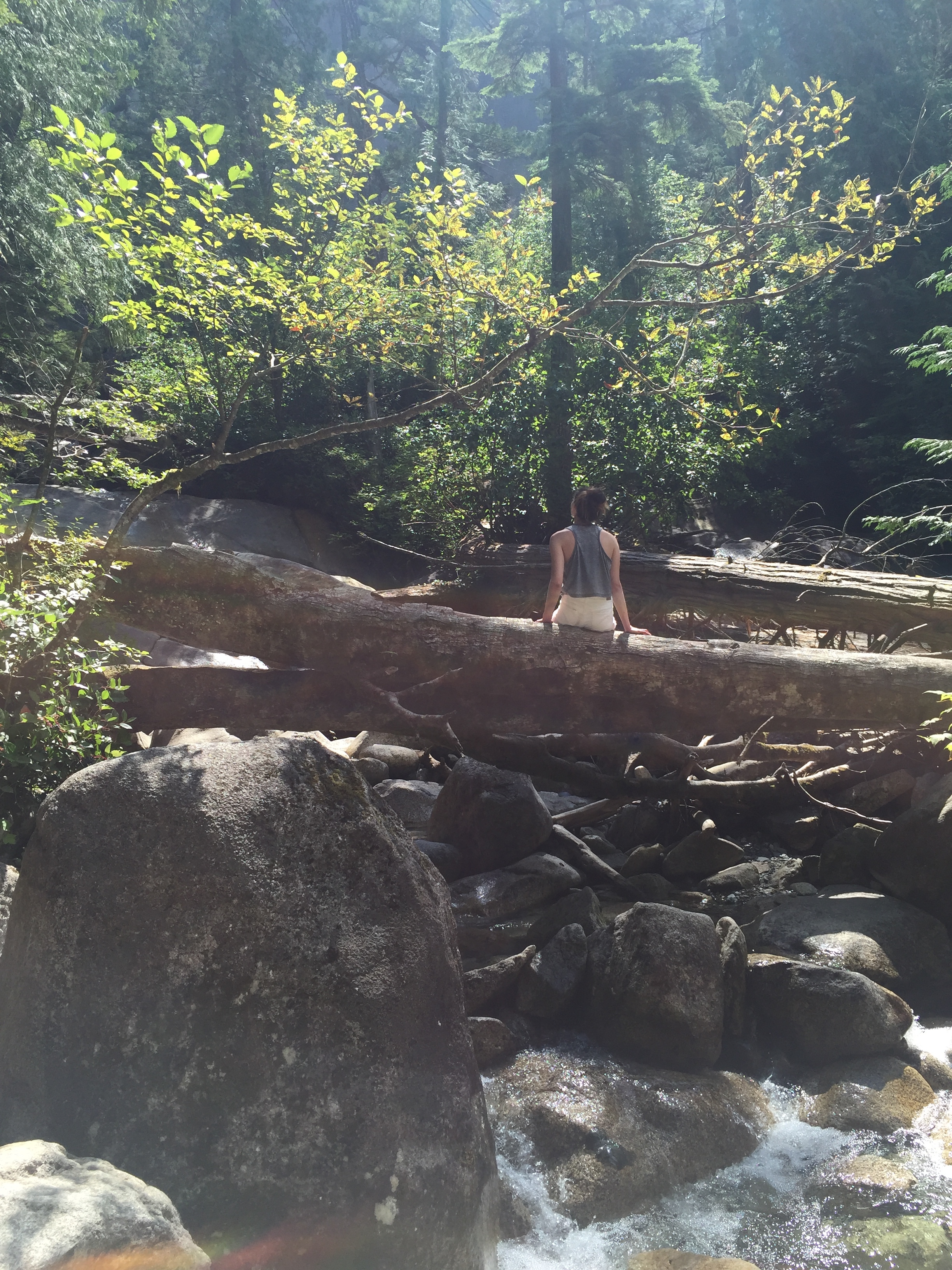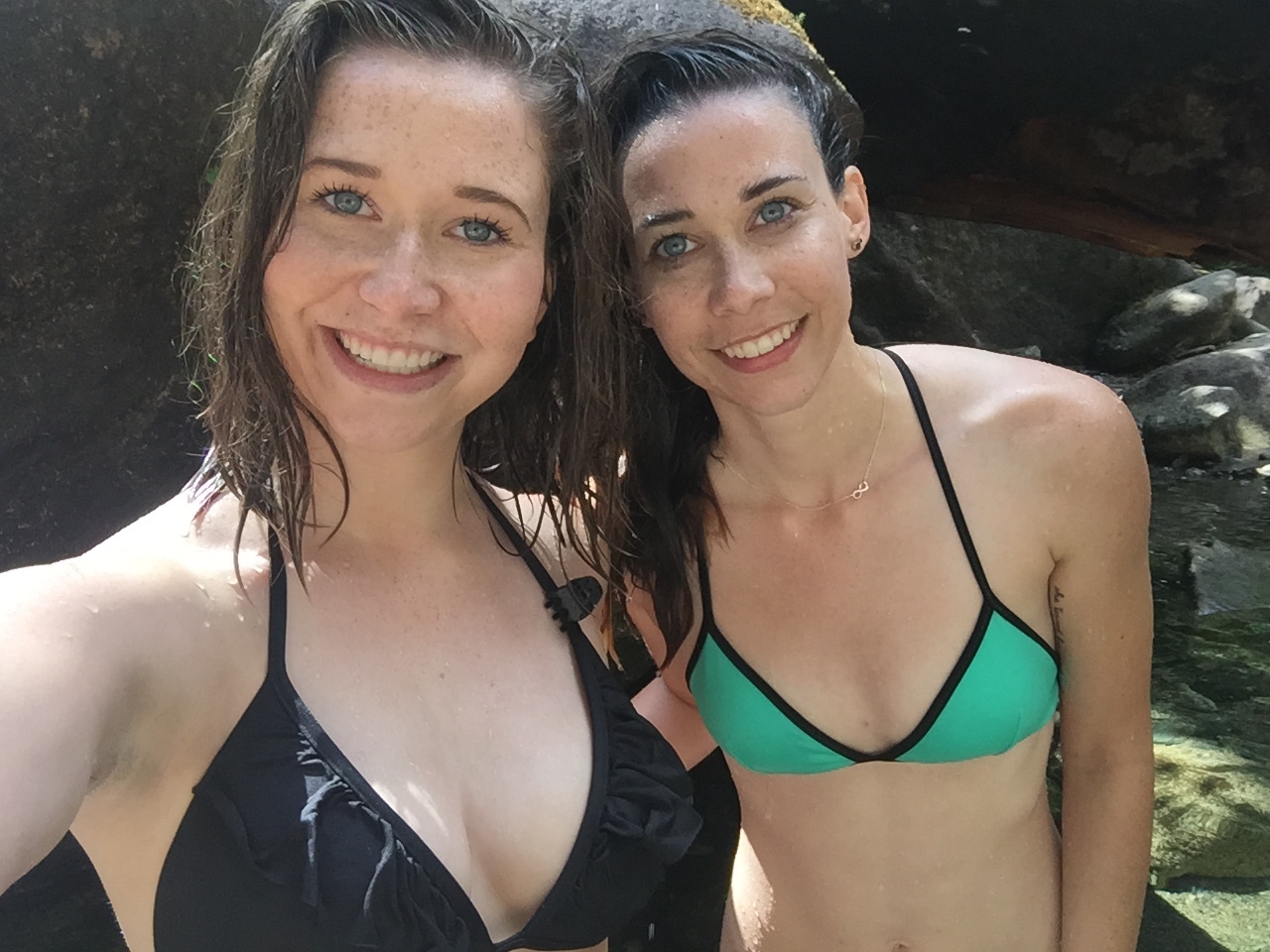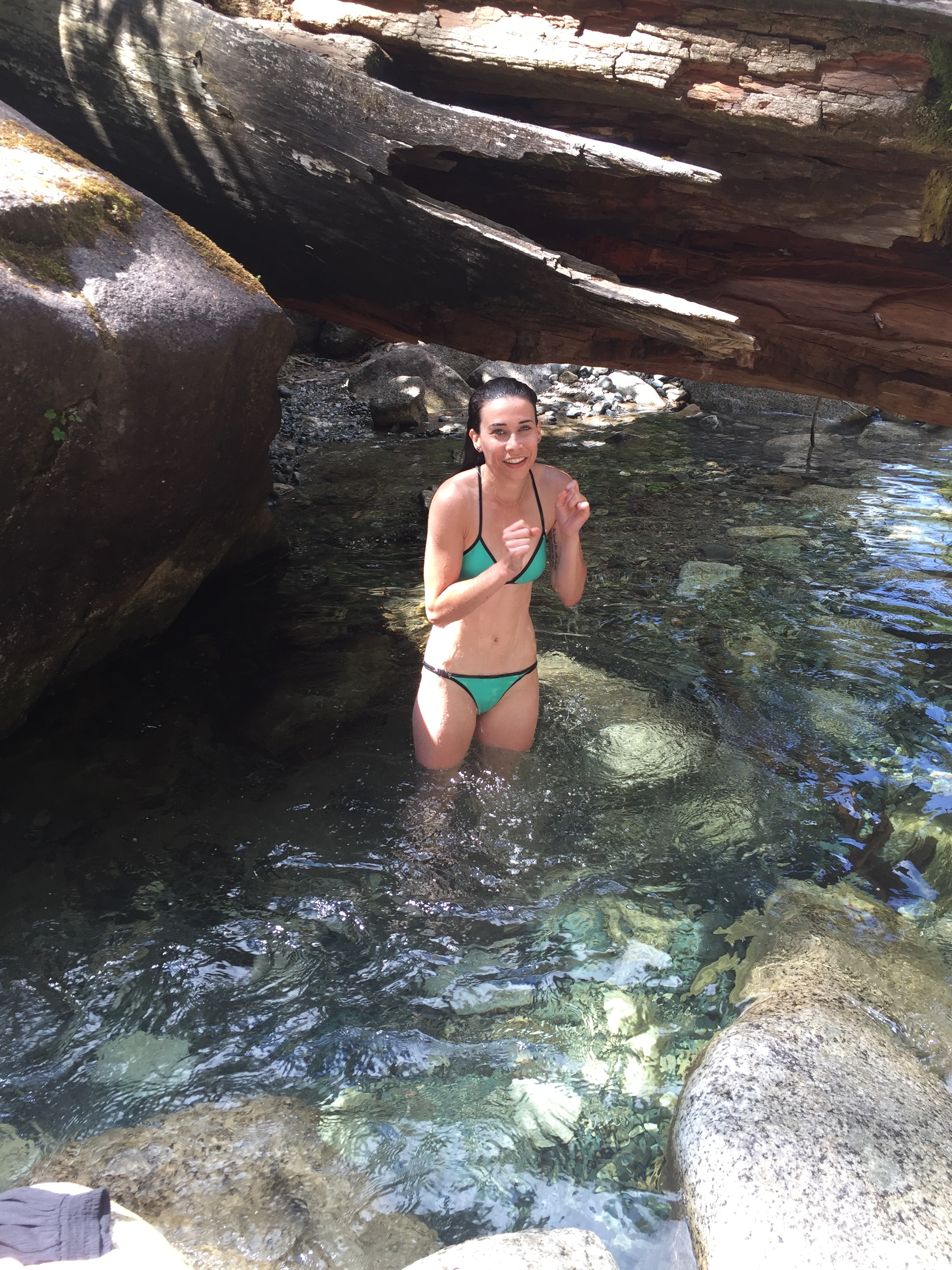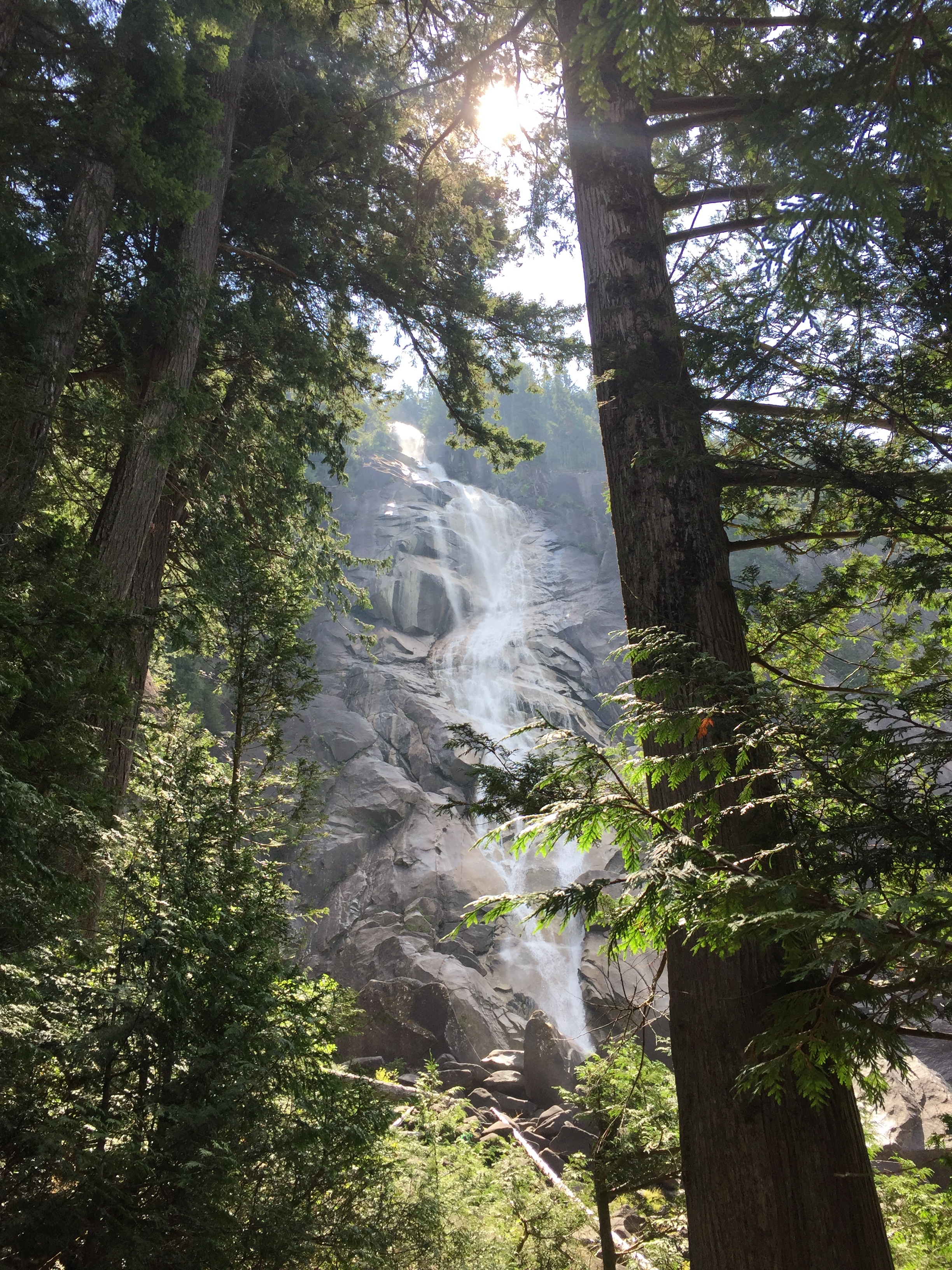 Brandywine Falls
My sister admitted she wasn't super thrilled to go on another trek but soon changed her tune and said it was worth it. We even caught a beautiful rainbow in the waterfall!
Whistler
Here's where the extra fun begins, especially for a couple of 20-somethings. Last time I was in Whistler I was only JUST 19 (legal drinking age in BC) and I longed to be one of "those" obnoxious young adults who woke me up at 3 AM galavanting around the village... We succeeded. We sampled lots of beers, went ziplining with Ziptrek Eco Tours and had a really fun final night in Whistler.
Longhorn Saloon & Grill
Super sweet patio right at the base of Whistler and Blackcomb Mountians with live music on the weekends, fire lamps AND fire tables for the cold grandmother such as myself.
Ziptrek Ecotours
My sister and I tackled the Eagle Tour which is 2.5-3 hours long and has five ziplines including one that's 2400 feet long and has a 30 storey decent. Second time with Ziptrek Ecotours and the tour guides have always been fun!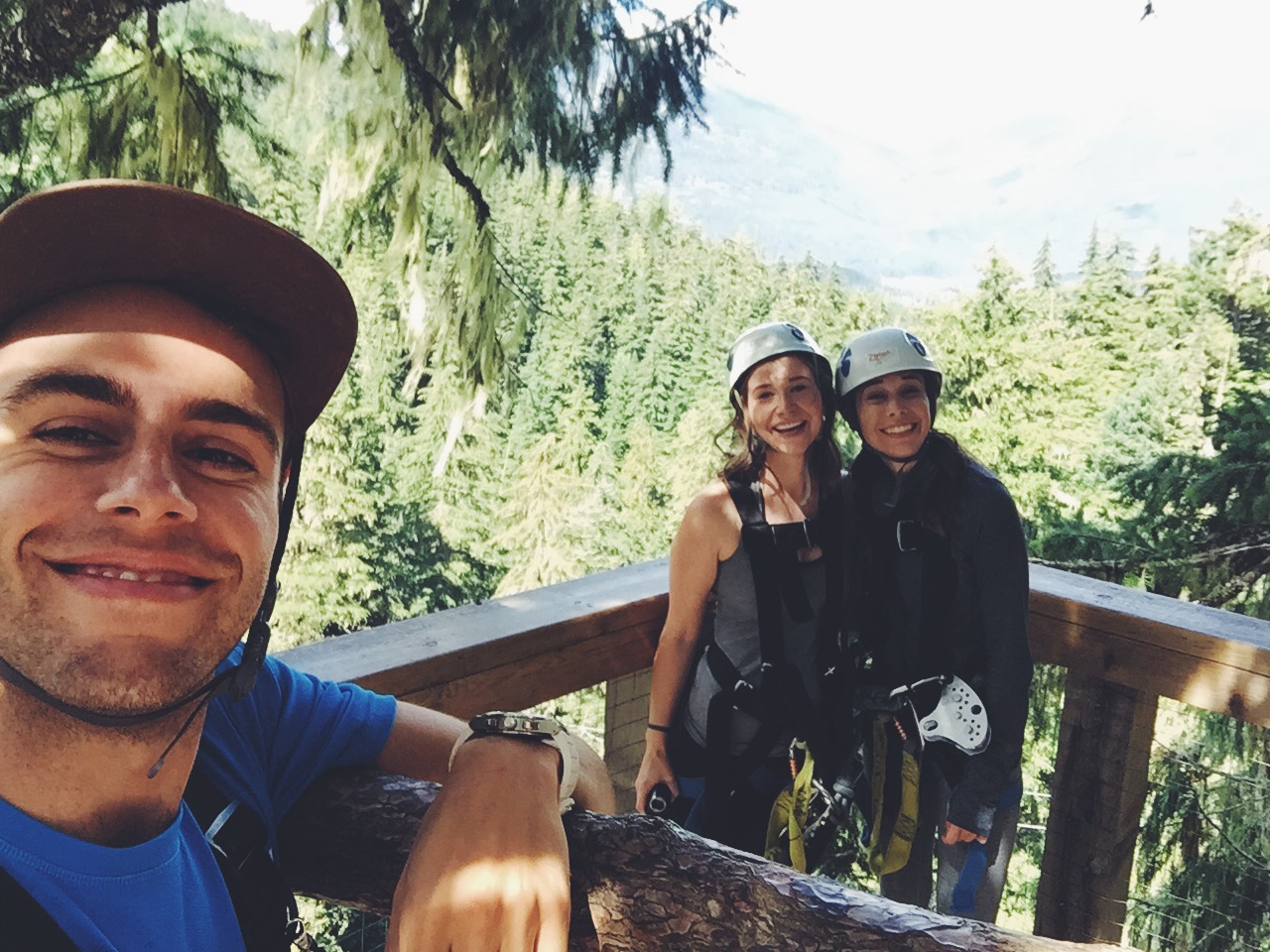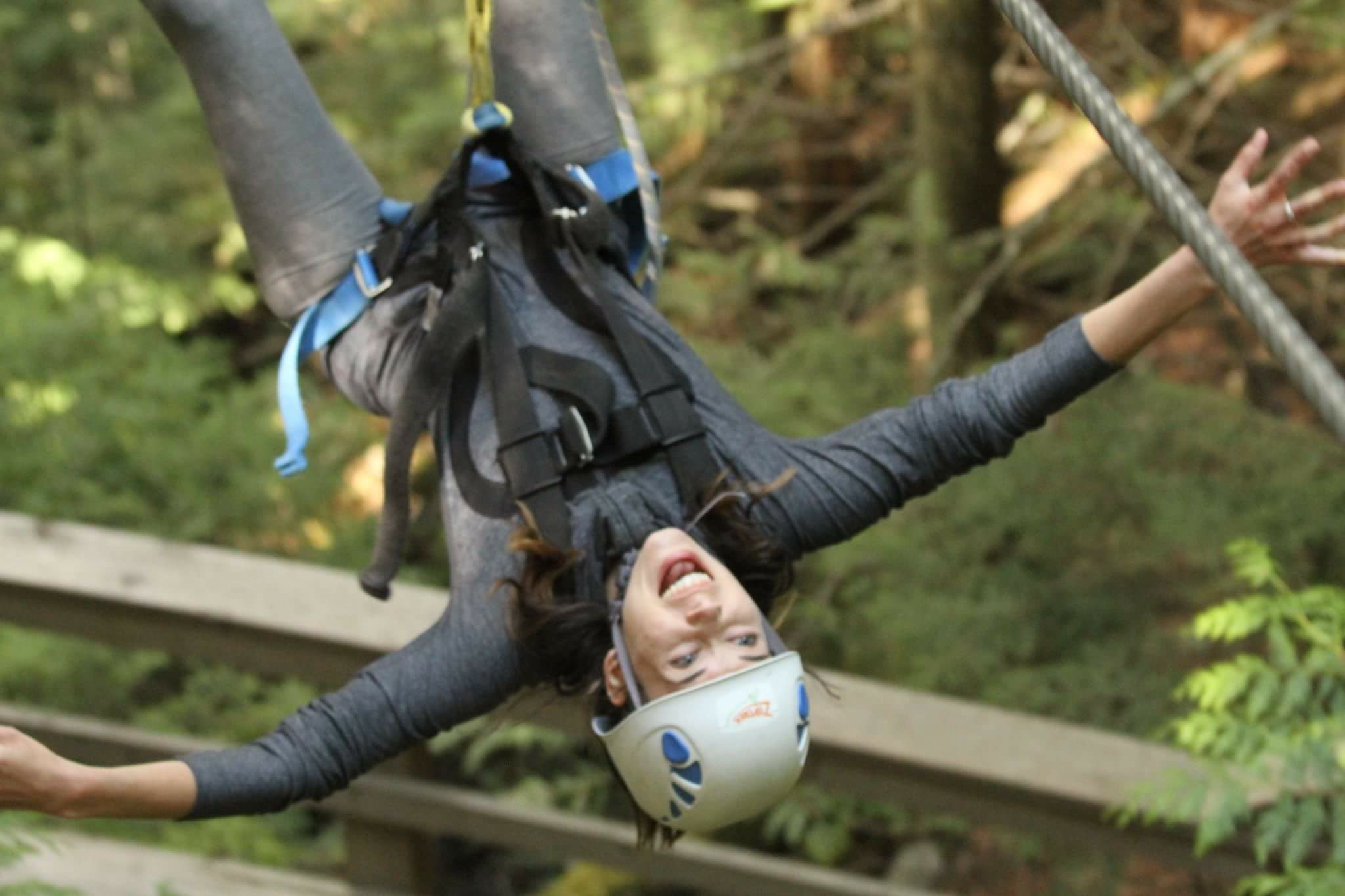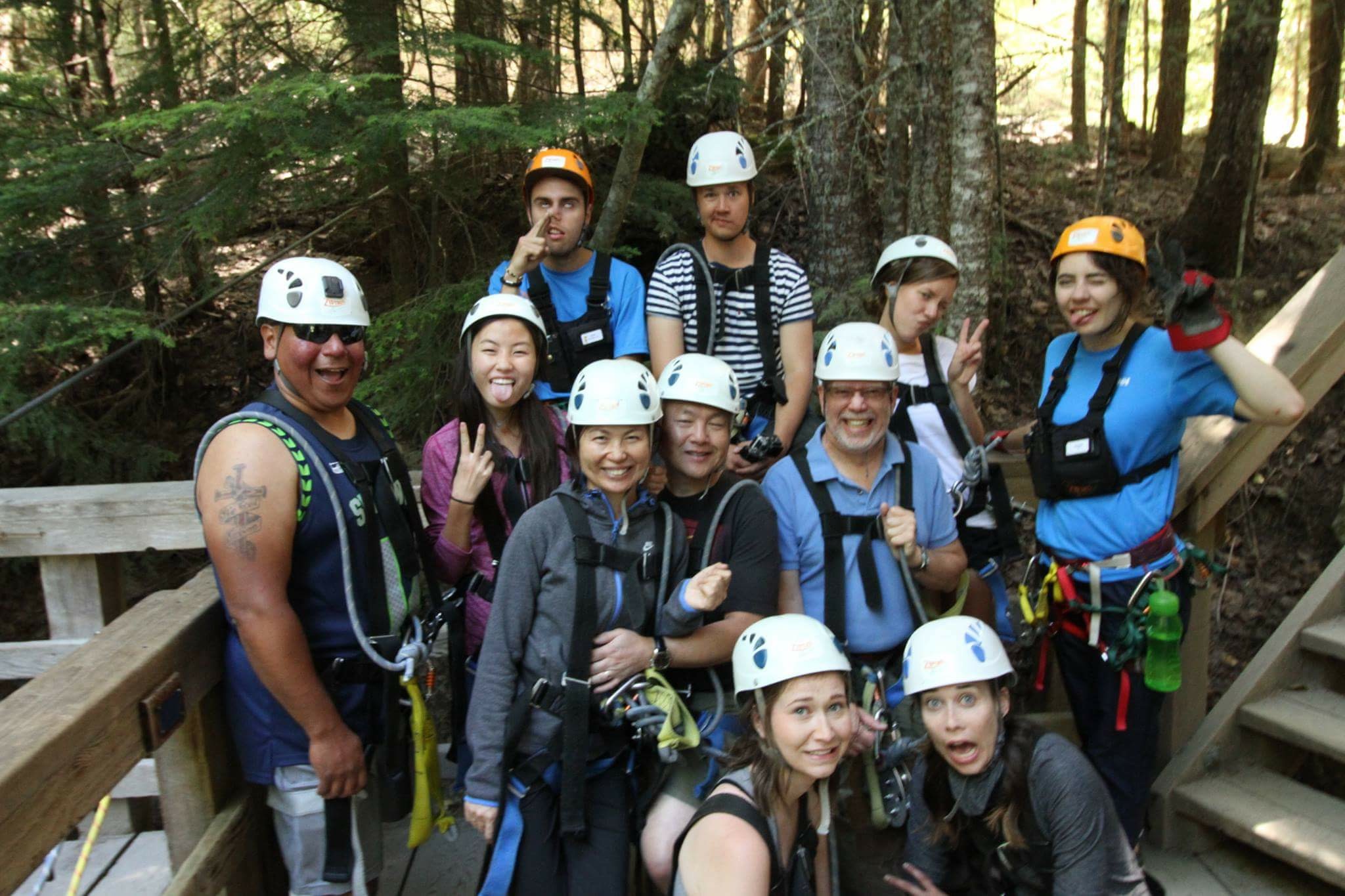 Black's Pub
The waitress we had at Black's Pub was awesome and actually gave us a solid answer when we asked her where to go on a Saturday night for fun... We listened, we took notes and we executed in flawless (ahem) form.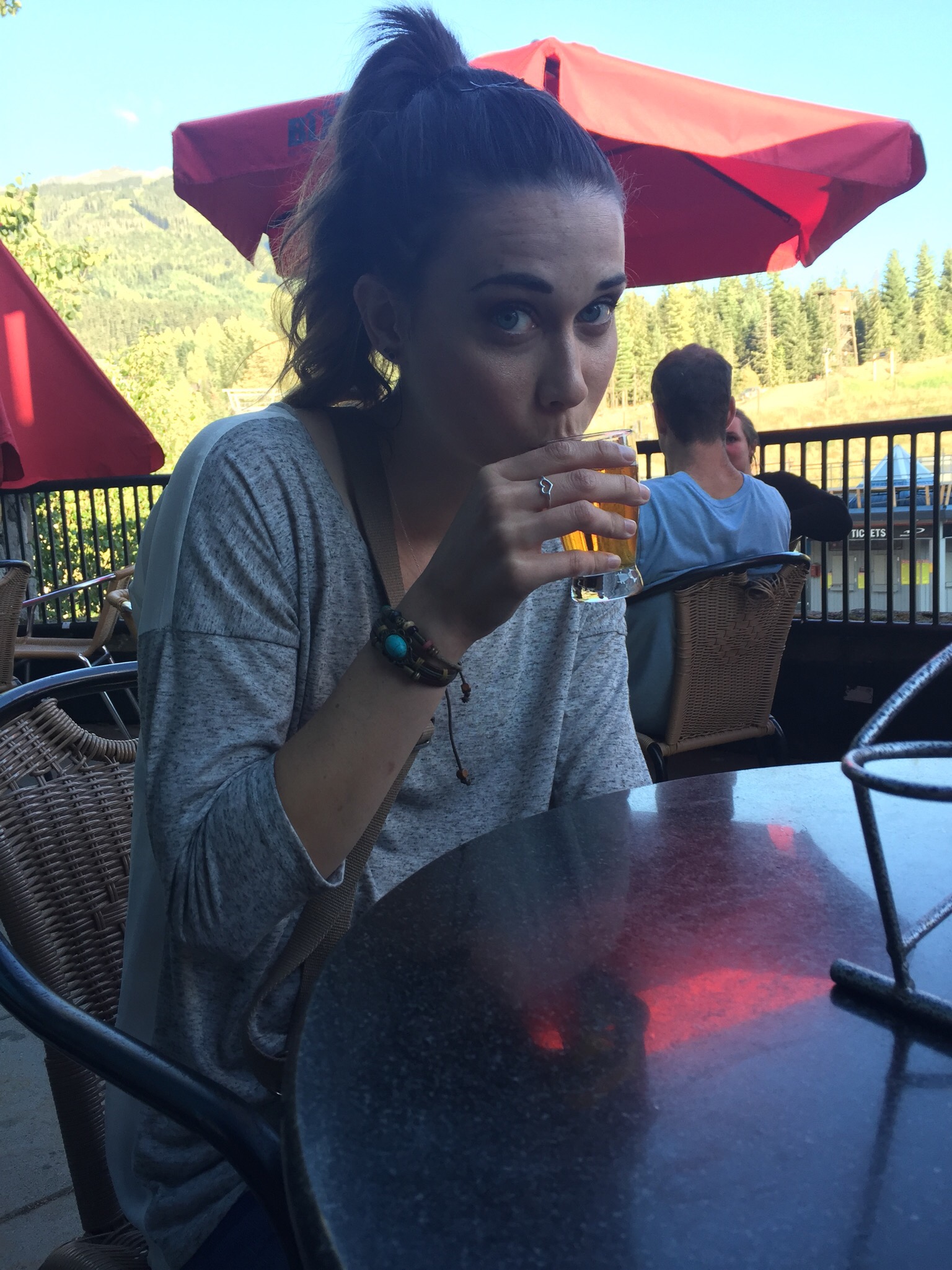 Whistler to Victoria
The trip to Victoria was quite uneventful though, there was a ferry ride and that was nice, except for the 3 hour wait... especially when our morning began like this...
Victoria
We stayed with my dad's besties in Victoria, they're more like family. We got the local's tour which was super cool. We took the day to see cute seals, Fantan Alley and we FINALLY got to experience TacoFino!
Willow Beach
Our hosts were out when we showed up but we had a key and a hankering to stretch our legs. We got my car unpacked and headed down to Willow Beach which is only a few minutes away.
Oak Bay Marina
SEALS! OMG! They are so cute and they've got the tourists in their pocket. They pop their head outta the water *tourist throws fish*, clap their flippers together *tourist throws fish* or roll over *tourist throws fish*! In any case, they're terribly cute and very entertaining.
Walbran Lookout
A cool little trek to get to this spectacular view. Behind me while I took this photo was nothing but lush green trees! My uncle could even point out where his house was.
Fantan Alley
I had one task for when I was in Victoria for my mother, get to Salt Spring Soapworks. It moved and no one knew where. Luckily my uncle decided on a short cut down FanTan Alley and lo and behold, there she was. The alley as a whole is really neat, very narrow and sort of feels like Diagon Alley from Harry Potter. We also stepped into a little bubble tea place so we could snap a quick pic of the dragon made of pennies on the floor!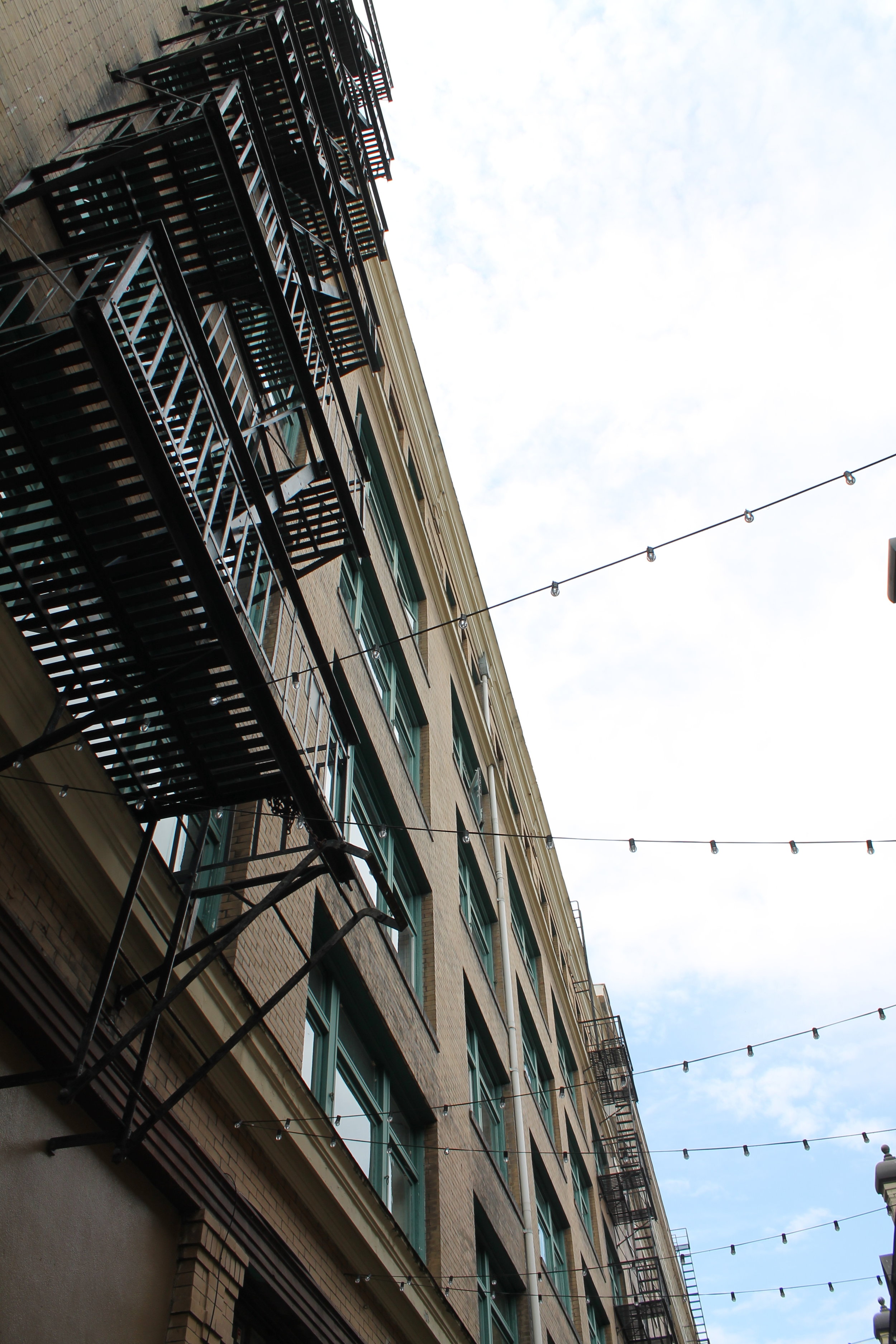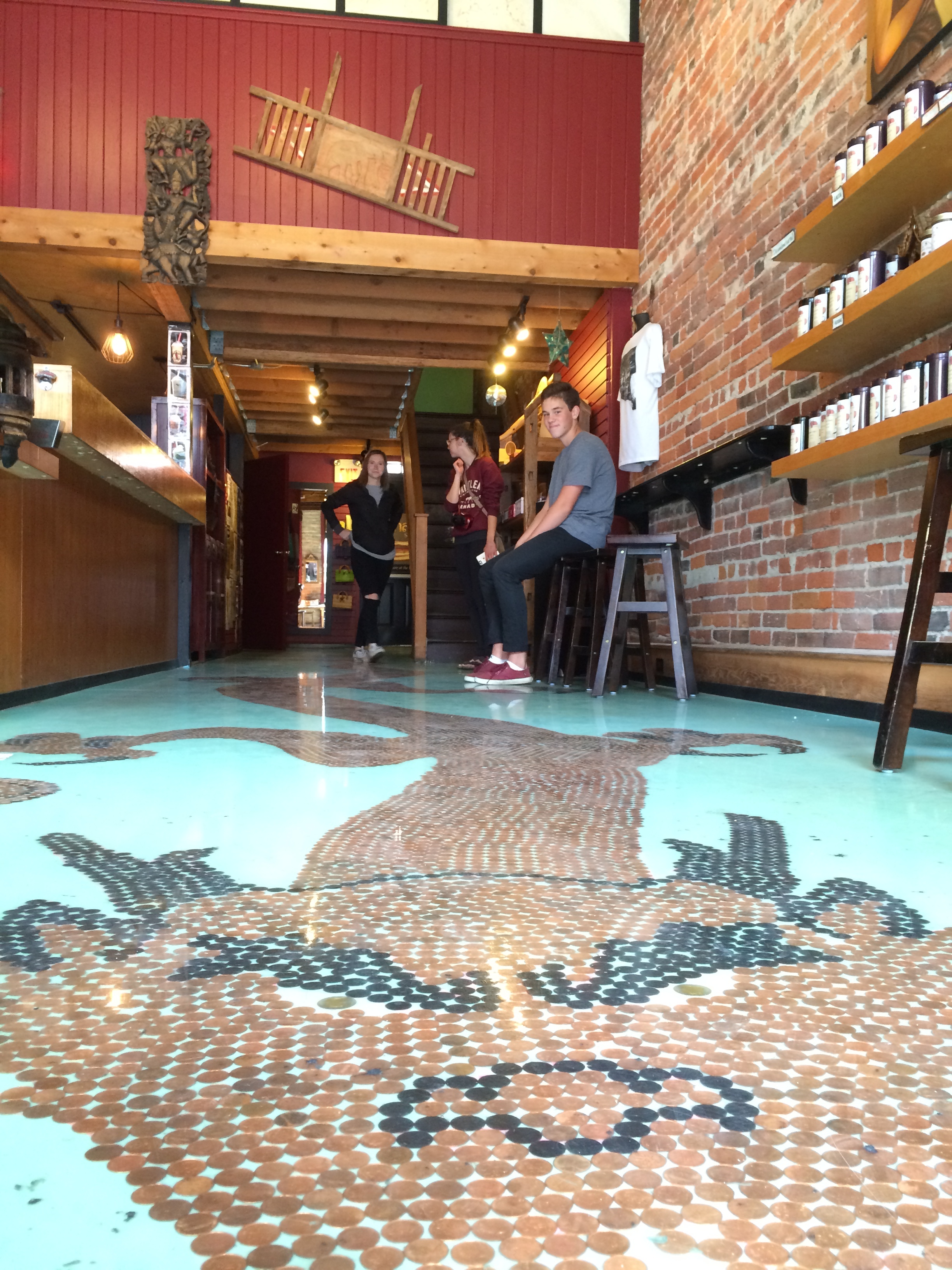 Big Bad John's
Small and seedy but it ain't creepy! This place is hilarious. My pictures don't do it justice so definitely check it out online but, there are bras hanging EVERYWHERE! This place only has about 10 tables in it and 8 seats at the bar, we went on a week-night so there weren't many people there but it's one of those must see places for sure.
Victoria to Tofino
Winding roads! When I used to be a passenger on these windy roads I would be nauseous beyond belief. As the driver. however, THE. FUNNEST! I felt like I was in real life Mario Kart! I know that sounds super unsafe but I promise you I'm a great driver. Man, was it fun though zipping up, down and around. Two stops on this trip! A mini shopping trip in Coombs and a roadside rock climbing expedition in Clayoquot Plateau Provincial Park.
Coombs
Even as an adult the fact that goats live on the roof of the Coombs market, aptly named... Goats on the Roof is incredible to me. The market is home to grocery items, a roadside ice cream treat, beautiful ceramic kitchenware and a whole section for kids toys! If you get the chance be sure to check it out.
Clayoquot Plateau Provincial Park
I would spend a whole day in this place! I almost didn't stop because I was coming around a turn so fast and this breathtaking view just popped out of nowhere. I checked my rear and there was no one behind me so, I responsibly slammed on my breaks and pulled to the side of the highway. The natural beauty of this place was just amazing. My sister and I had to jump in the water when we found this neat secluded spot. And boy is that glacier water a shock to the system!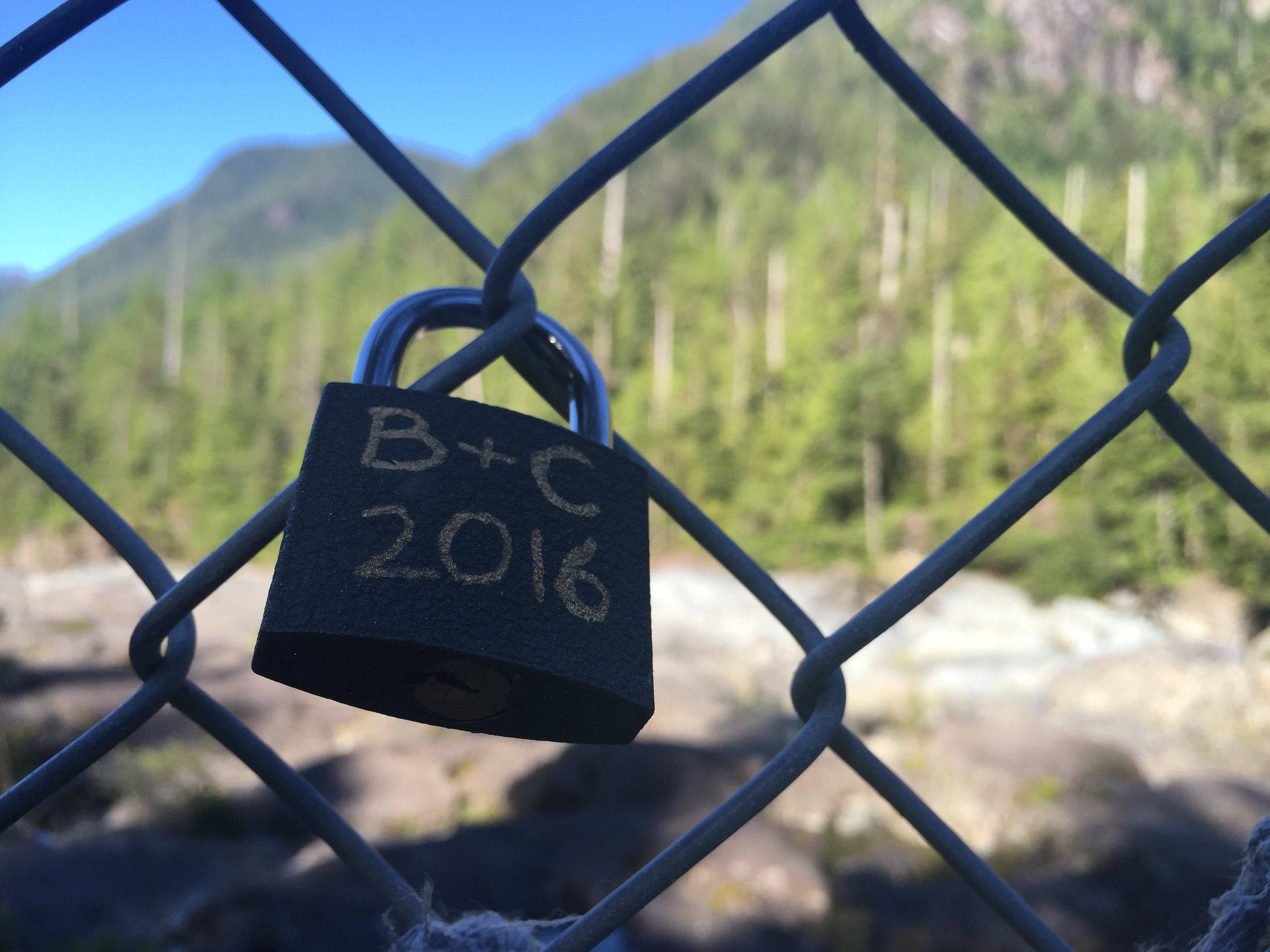 Tofino
Okay, we stayed at the beautiful Bella Pacifica Campground just down the beach from the cabins at Ocean Village that we used to stay at with our parents when we were kids. We spent most of our time on MacKenzie Beach rock climbing and exploring but we made sure to make a walk into town and went whale watching too!
Tacofino
Before we could even think about setting up a tent we needed FOOD! We had just had our first taste of TacoFino in Victoria and we were hooked, we also wanted to experience the original! Then we got our tent all set up, cracked a beer and set fire to a lot of kindling...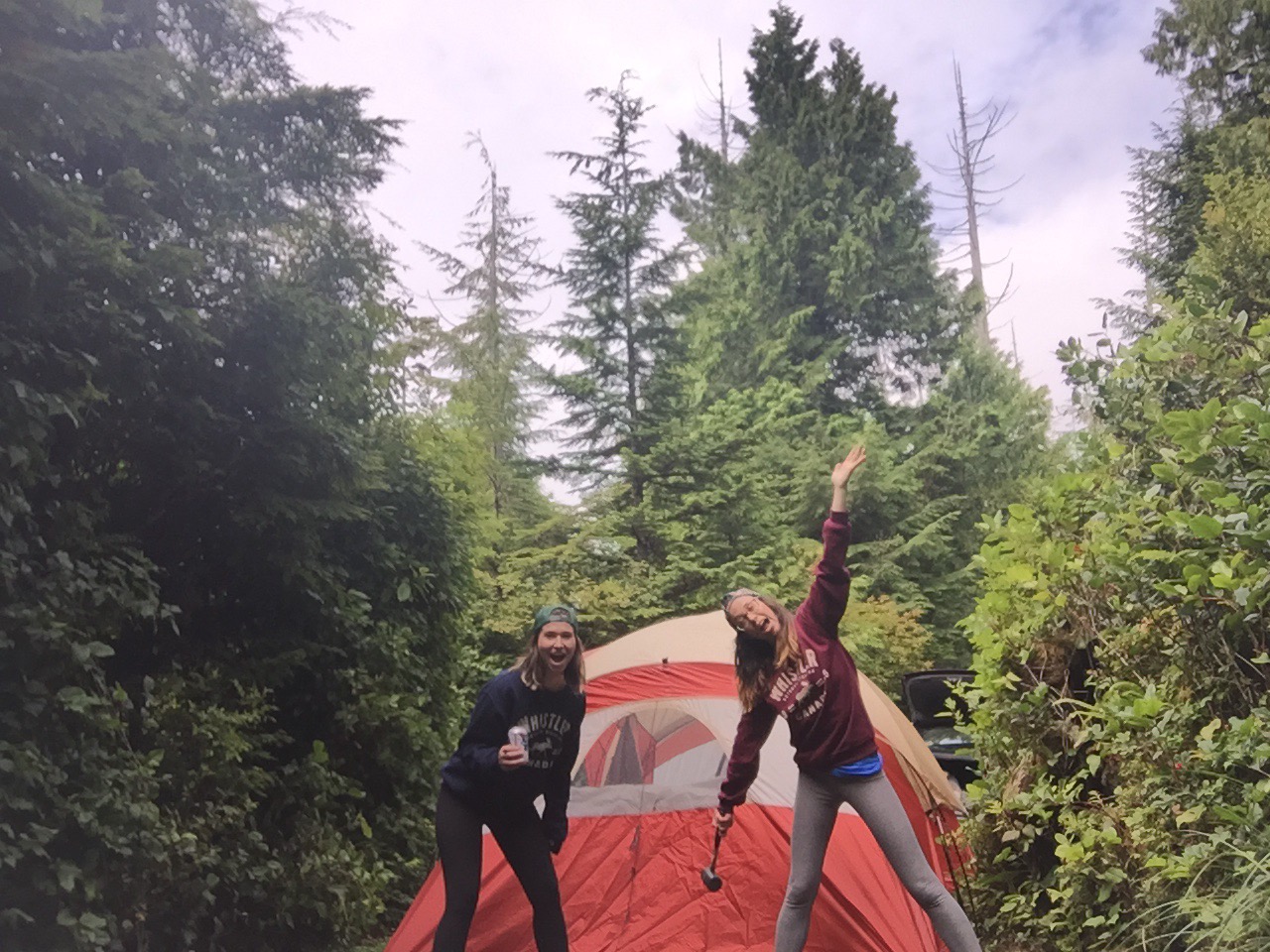 Mackenzie Beach
A beautiful beach with neat places to explore on both sides of the inlet. My sister and I did some rock climbing and I managed to wreck my feet on the first day, but that didn't stop me!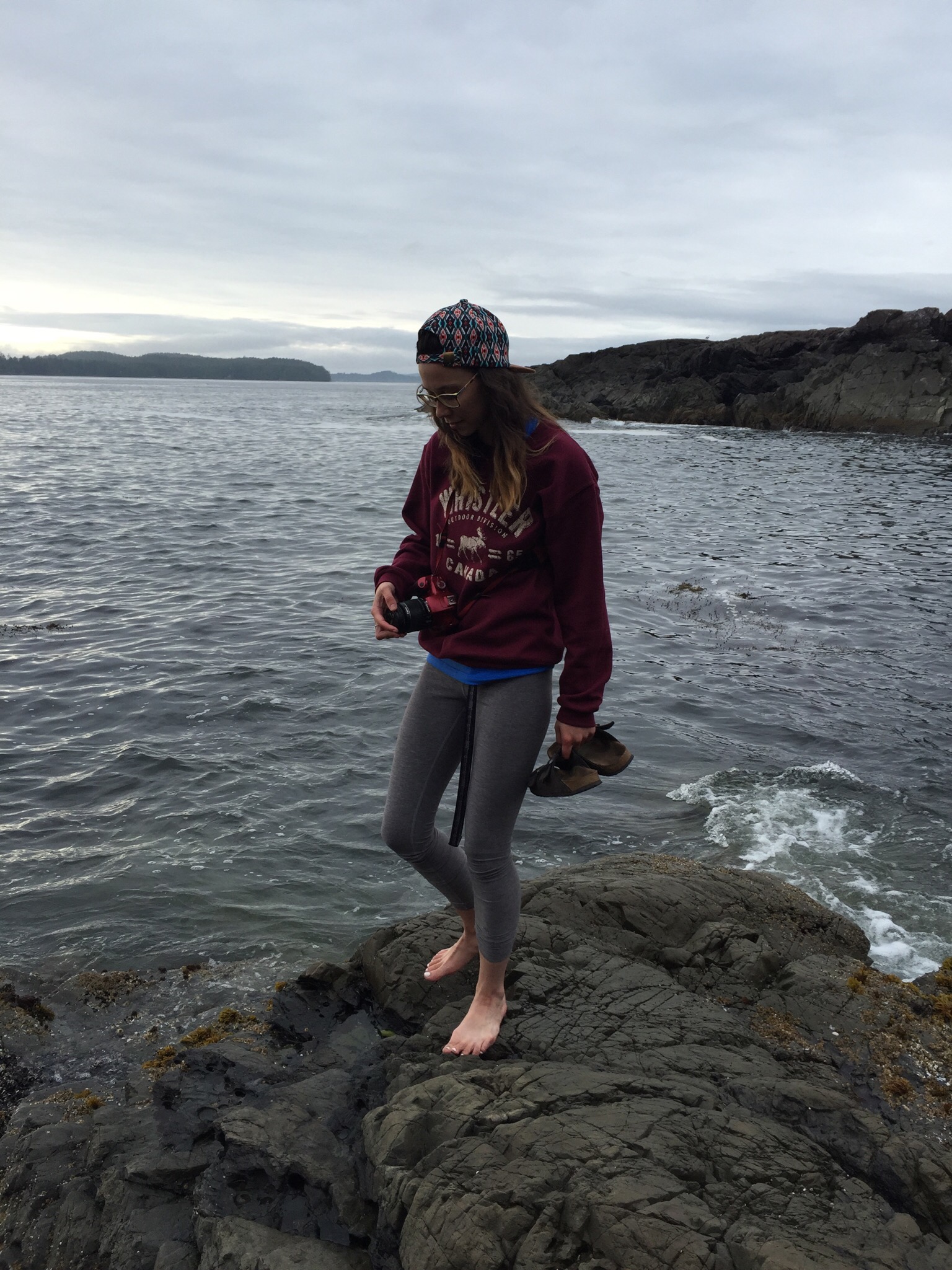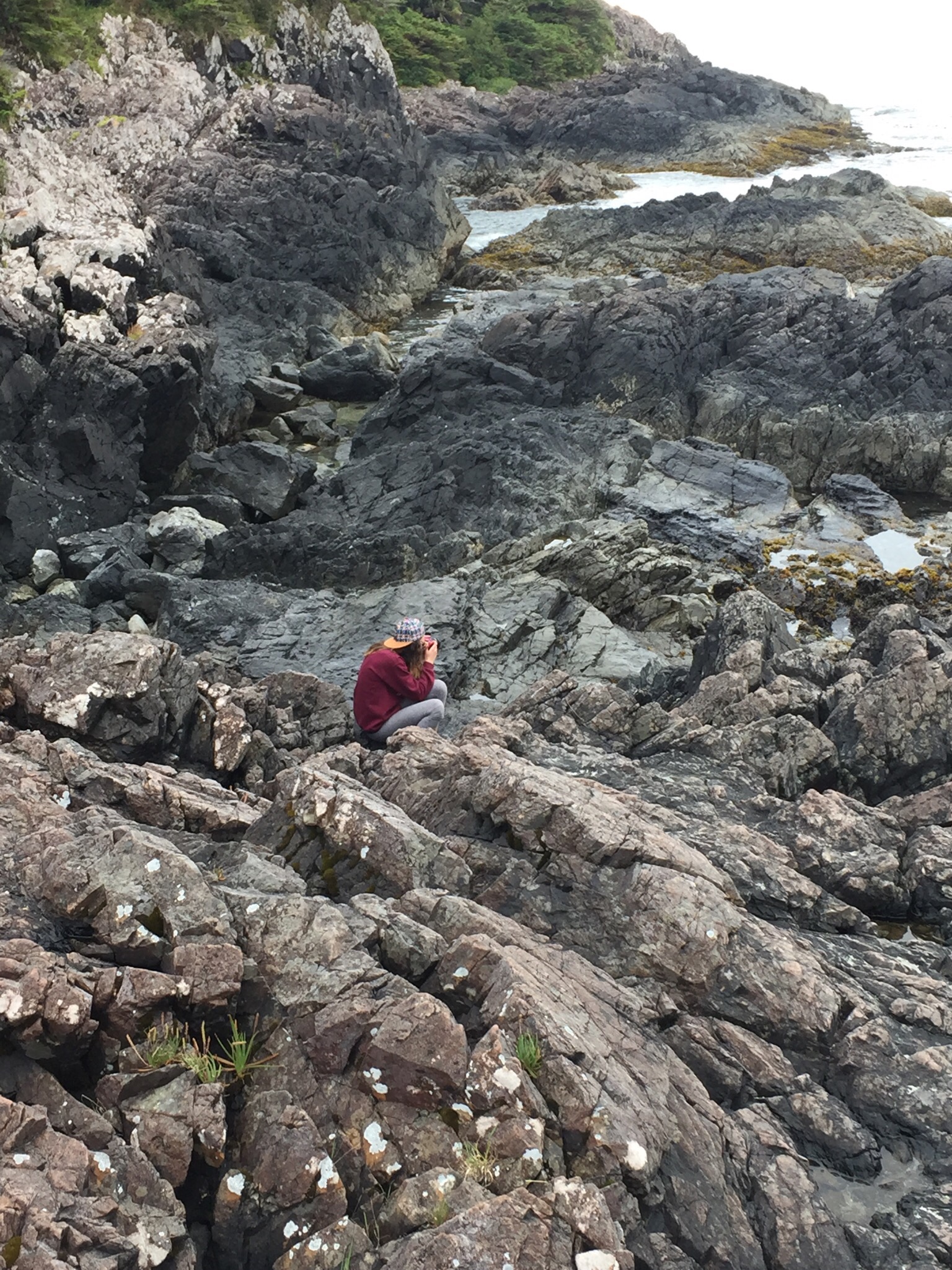 Jamie's Whale Watching
I love whales, I've been in love with whales since my first visit to the Vancouver Aquarium (wrong now, I know). How are these things so big?! How are they so majestic?! They are just all around incredible and what better way to experience them than in their natural habitat? This time around I put us on a zodiac, my sister was not even a little bit happy but her mood changed as soon as the wind was whipping through our hair and the sea water was smacking our faces! We saw five gray whales in total and they are still amazing. Here are some shitty photos I took!
Tofino
We walked into town, almost 4km. We went to Tofino Coffee Roasting Company for a morning caffeine boost then we went into the Roy Henry Vickers Gallery and I got my first piece of Indigenous art! All that walking got us hungry and the sun even came out so we decided to hit up The Schooner Restaurant patio for some Long Island Iced Teas and Tacos!
Well, this has been incredibly painful to revisit such an incredible trip with my baby sister. HUGE thank you to all of our family, Parisien's, May's and Franz's for opening up their homes to a couple weary travellers we couldn't have done it without you!